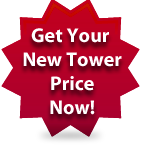 Get your New Tower smell here!
CSR Series Cooling Towers



Counterflow




Splash Fill




Redwood
Water quality problems are no problem when you combine our splash fill with the time-tested reliability of a Redwood structure in this heavy-duty counterflow tower.
If you are battling poor water quality, splash fill can help you overcome your cooling challenges. You no longer have to concern yourself with tower fouling issues with CTDs proprietary splash grids fill material. CTD will deliver you the cold water you require with years of trouble-free service with our counterflow, splash fill Redwood tower design.
Because Redwood is our industrys most time-tested material, you can rest assured that it will provide you with the structural integrity and reliability that you require. Our Redwood is always pressured treated for additional protection against fungal attack and decay. In addition, Redwood is an excellent choice for cooling tower structures because it is not prone to checking or splitting, which prevents micro organisms from gaining a foothold within structural members.