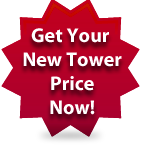 Get your New Tower smell here!
CFR Series Cooling Towers



Counterflow




Film Fill




Redwood
The natural preservatives of the Redwood structure provide a durable and light-weight structural framework, which has proven to be reliable in the most demanding cooling environments.
Historically, Redwood has been used for both commercial and industrial applications because of its unique combination of natural preservatives and structural characteristics. Because of its distinctive minute cell structure, Redwood is an ideal structural material for cooling tower applications. Furthermore, Redwood is not prone to checking or splitting, which prevents micro organisms from gaining a foothold within structural members.
Once again the film fill material is selected to meet the unique water quality of each application to ensure optimum cooling performance. Constructed of polyvinylchloride (PVC) material, the film sheets are vacuume-formed with micro structure features that not only maximize water surface area but also provide structural integrity to the film pack. The film fill is supplied in either 10 mil or 15 mil thick sheets, which is measured after forming.