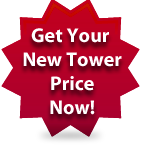 Get your New Tower smell here!
CSF Series Cooling Towers



Counterflow




Splash Fill




FRP
Our CSF Series Tower design with its fiberglass structural framework and splash fill material offers a unique combination, capable of conquering the harshest of industrial processes.
Do not allow poor water quality to slow down your operation. CTDs splash grids fill material will provide optimum performance by uniformly distributing the water flow through the fill area by maximizing the number and size of droplets in order to achieve your desired cold water temperature. Installation of our splash grids is a snap when it comes to our splash grid hanging system, which features CTDs proprietary interlocking grid clips.
CTDs pultruded fiberglass structure is resistant to both chemical and biological attack, which makes it ideal for the inherent harsh operating conditions of the cooling tower environment. Our pultruded FRP structural towers offer an environmentally friendly alternative, which features no chemical leaching from the structure members into the circulating water. Combined this with a flame spread index of 25 or less as per ASTM E-84 and UV inhibitors to protect against UV degradation and you have a winning combination of structural integrity and reliability.